Interview with Fabian Bau
HOW DID YOU BECOME AN INFLUENCER?
I thought woodworking was a little lonely and this way I could join a community of peers.
WHAT DO YOU LIKE ABOUT WOOD?
The smell, the naturalness and also the uniqueness of every single board, every plank and every workpiece.
WHAT DO YOU PAY ATTENTION TO WHEN WORKING WITH WOOD?
High-quality raw materials are important to me. I mostly use solid wood and if possible, visible wood joints. Plus, I let the individuality of the wood flow into the design.
WHERE DID THE IDEA FOR THE BED COME FROM?
A couple I am friends with wanted a beam bed and I was interested in building one. We settled on a design for the bed together. At the timber yard, I got 52-millimetre-thick boards and went at it in my workshop in the cellar.
WHY DO YOU USE OSMO PRODUCTS?
I really like the natural look and feel of the finished surfaces and the food safety.
WHAT ARE YOUR EXPERIENCES WITH OSMO PRODUCTS?
I only have good things to say, in particular the easy application. Also the accessories and tools, like the Handpad-Halter, have made my woodworking more efficient.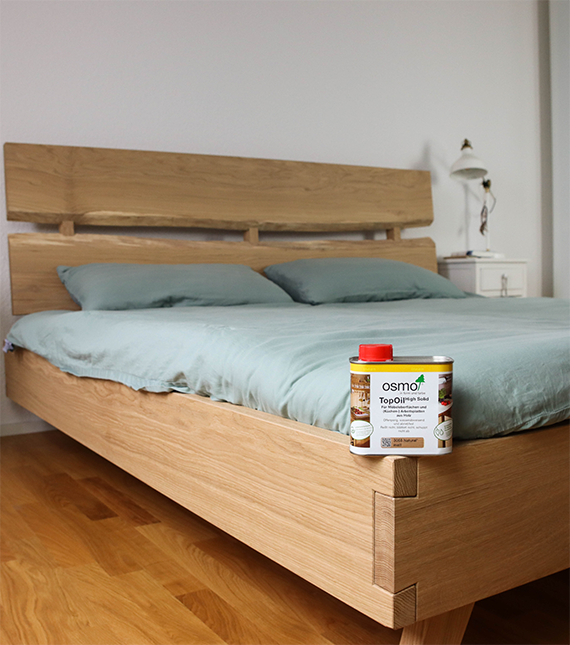 This could also interest you