XXL bed with XXL protection
Influencer Fabian Bau relies on healthy Osmo TopOil for the surface treatment of his new DIY project
Influencer Fabian Bau is known for his creative work around the natural material wood - from a doll buggy for his two daughters to a dining room bench for the whole family and his personal favourite: delicate Japanese kumiko panels. The Berliner discovered his passion for woodworking during his studies while looking for a special bookshelf with live edges. None of the offers met his expectations, so he decided to take action: Out of a few Oak planks from the local timber yard and some suitable iron pipes, not only a new dream shelf was made, but also the love for working with wood was discovered. After Fabian Bau was inspired online by the works of other woodworkers, he gradually dared to tackle more demanding projects - and with complete success! After a year and a half of tinkering around on his own quiet workbench, the Berlin-based influencer began to share his projects on his Instagram channel @bauwoodworks and was promptly rewarded for this step with a great response from viewers.
One of his current DIY projects is an about 105-kilogram XXL bed that was created in around 70 hours of labour and consists of a total of four "ingredients": wood, glue, Osmo TopOil and a large portion of creativity. The 52 mm thick planks used are all made from one single European Oak tree. Thanks to the clever design of the individual connections, the bed is assembled and dismantled without any tools in 2-3 minutes.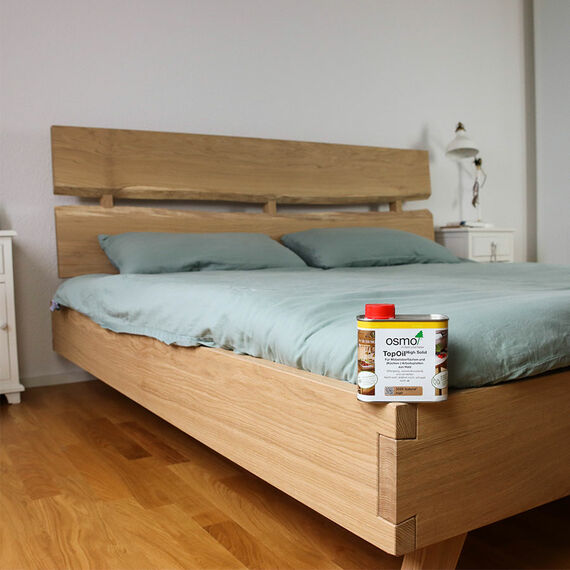 "I prefer to work with solid wood and traditional wood connections to emphasize the natural beauty of the material," Fabian Bau explains. "With a piece of furniture like a bed, it is also particularly important that the products used are absolutely safe. Healthy living and aesthetics - two reasons why I opted for Osmo TopOil Natural Matt for the final top coat." The extremely resistant oil and wax combination is ideally suited for furniture surfaces and kitchen worktops made of solid and laminated wood in indoor areas: it makes water simply bead up, is guaranteed to be food safe and protects the wood reliably against dirt and stains. The dried coating is safe for humans, animals and plants and can therefore also be used in the kitchen or bedroom without any problems.
"I applied two coats of TopOil in total. Thanks to the Osmo Oil Finish Application Set, including a Hand Pad Holder and Oil Finish Applicator Fleece, coating was super quick and easy." Osmo TopOil does not crack, peel or flake off and is available in seven different colours, which also increases individual design freedom. The optimal finishing touch for a work of art that literally invites you to dream!
Photos and videos of the XXL bed with XXL care and maintenance as well as other exciting projects are available on Fabian's website at www.bau-woodworks.de and on his Instagram and YouTube channels.