Useful helpers from Osmo
When colour meets wood, Osmo supplies everything you need for your projects. After all, to complete your projects properly, you need more than first-class wood and suitable finishes - only when you have the right tools and accessories, does the application become child's play and the result perfect.
ONE VISIT TO THE SPECIALIST MERCHANT - EVERYTHING TO HAND.
Our little helpers can be found at the specialist merchant - like everything else from Osmo. The advantage of this is that you only have to go to one shop and talk the shop assistant who will be very familiar with both our products and Osmo accessories. They can tell you exactly what you need for your project.
YOUR ADVANTAGES
Everything from a single source at a specialist merchant
Especially developed for oil-based coatings
Practical sets - everything included
FOR AN EFFECTIVE APPLICATION
OSMO FLÄCHENSTREICHER
With Osmo Flächenstreicher, you have a brush for every application: large surfaces, for example, can be treated quickly with the 100 mm wide Flächenstreicher; for corners, edges and crevices, the brush with 25 mm width is sufficient. The bristles are very tightly bound in a specific pattern and particularly dense. They absorb the coating perfectly and create an even surface. Our brushes are particularly suitable for the application of all oil-based wood coatings. Afterwards they can be cleaned gently and thoroughly with Osmo Pinselreiniger.
OSMO ABZIEHER MIT GUMMILIPPE
Osmo Abzieher mit Gummilippe facilitates two-tone application on textured surfaces. It removes excess material, for example for the two-tone technique. It is available in the widths 220 mm or 350 mm.
OSMO ROLLEN-ABSTREIFER
No more wasted material with Osmo Rollen-Abstreifer: excess coating ends up back in the can - simple and without dirty hands.
OSMO RÜHRHOLZ
Our Rührholz is ideal for stirring oil-based wood coatings up to 2.5 l.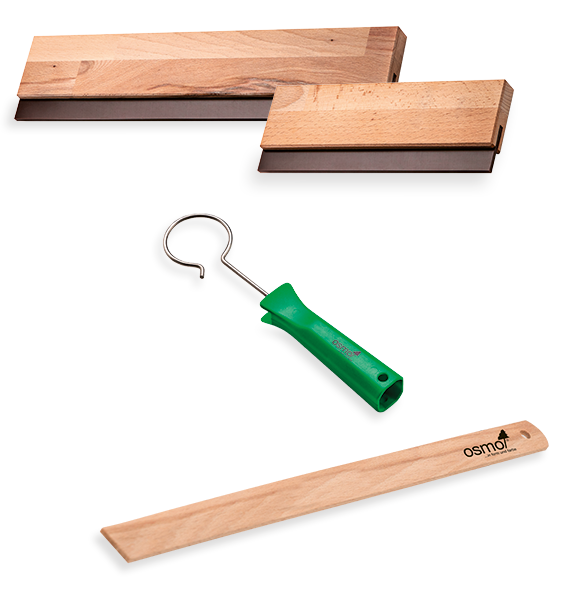 Practical and multi-functional
PRACTICAL SETS FOR DECKING AND FLOORING
Everything has been thought of with the Osmo sets: With Osmo Terrassen-Streichset, Osmo Roll- und Streichset and Osmo Fußboden-Rollset, you get all the tools for your wood and coating project at a favourable price. Rollers are ideal for coating wood surfaces.
MULTI-FUNCTIONAL: WIPE, ROLL, BRUSH
The Osmo System Teleskopstiel can be easily combined with different attachments. One handle for everything and everyone: suitable for many Osmo tools and is adjustable from 120 to 200 cm. It can be combined with decking brushes, floor brushes and sets that include these tools.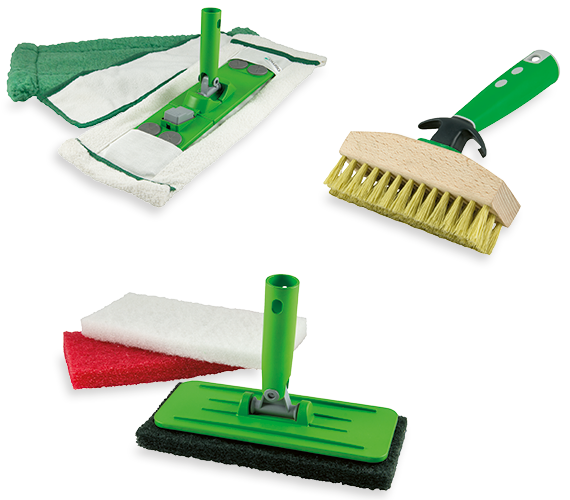 This could also interest you