Blue, blue, blue… everything we love is blue
Add stylish accents with Dekorwachs in the Colour of the Year 2020
Trendy wall colours, stylish furniture, textile eye-catchers and lovingly selected accessories - when it comes to designing our home, we put a lot of effort into making our own four walls the number one place for well-being. With the Colour of the Year 2020, the internationally popular Pantone colour system now gives us new space and input for creative interior design. Because all arrows are pointing to blue - more specifically to Osmo Dekorwachs 3125 Blue!
With Osmo Dekorwachs 3125 Blue, wooden surfaces in the interior are staged cunningly and coated in everyone's current favourite colour. Regardless of whether it is a kitchen front, a table top, a stair step or a chest of drawers: Osmo Dekorwachs is a real all-rounder when it comes to the creative, colourful finishing of wooden surfaces. Osmo Dekorwachs is based on plant waxes and oils and can be easily applied with a brush, microfiber roller or Osmo Hand Pad Holder.
The natural warmth of the wood catches the freshness of the blue and merges with it to form a harmonious whole. If you are looking for warm contrasts for your flooring, it is best to use Osmo solid wood flooring in Maple, European Oak or Jatoba. One coat is enough for a transparent stain; with a second coat after drying you can achieve a more intense colour.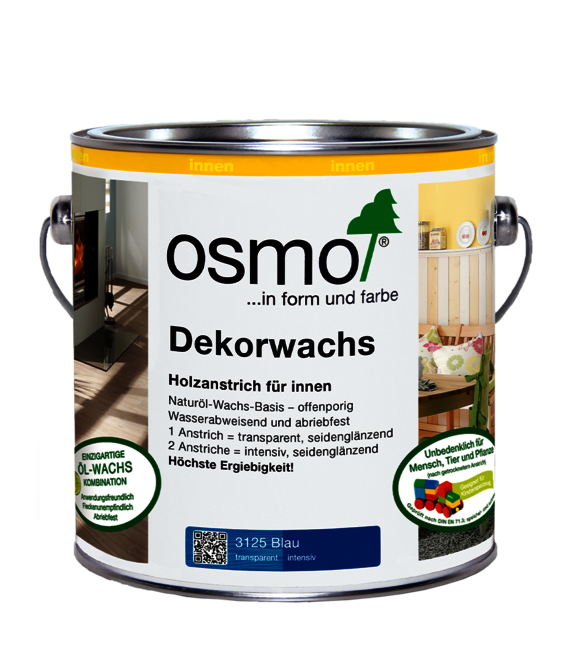 A top coat with a clear Osmo Hartwachs-Öl is recommended. The result: eye-catching wood that is well protected against water and dirt, breathable and safe for humans, animals and plants. The harmonious overall appearance is rounded off optimally with decorative items, such as vases in different shades of blue, matching upholstered furniture or carpets. By the way: If you want to create a unique eye-catcher, combine two different colours with the innovative two-tone application technique. After brushing on Dekorwachs 3125 Blue, a coat of Dekorwachs 3172 Silk is applied to the dried coat.
While the second coat is still wet, remove it with the new Osmo Rubber Scraper. The lighter colour stays in the grooves of the wood, the strong blue shines through in the raised areas - the more pronounced the wood structure is, the more vibrant the results will be. So what are you waiting for? It's time to create your own blue period in your four walls!
Learn more about the Two-Tone Technique