Reliable protection for the interior: new wood oil for professionals
Osmo 2K Holz-Öl – the solvent-free surface protection with only coat
Osmo Holz und Color GmbH & Co. KG stands for certified healthy living and sustainability. With new 2K Holz-Öl, the company is bringing their first one-coat, solvent-free, 2-compontent oil for interior use onto the market. With this new addition, Osmo further expands their competence as specialists for optimal wood protection and thus also the long-term preservation of this natural work material.
Healthy surfaces
Low-VOC and environmentally friendly materials for the interior are still in demand: also in 2021, people are spending a lot of their time in their own four walls and are using this time to renovate their homes. In these renovations, healthy living plays a big role. Immensely popular is still the natural work material wood. The solvent-free 2-component oil based on natural oils protects wood surfaces and is completely safe. It forms a microporous and very durable surface – the wood can still absorb and release moisture, which has a positive effect on indoor climate.
This product is suitable for parquet and wooden flooring according to DIN Norm 18356 as well as furniture surfaces. It can also be used for nearly all oily and resinous wood species.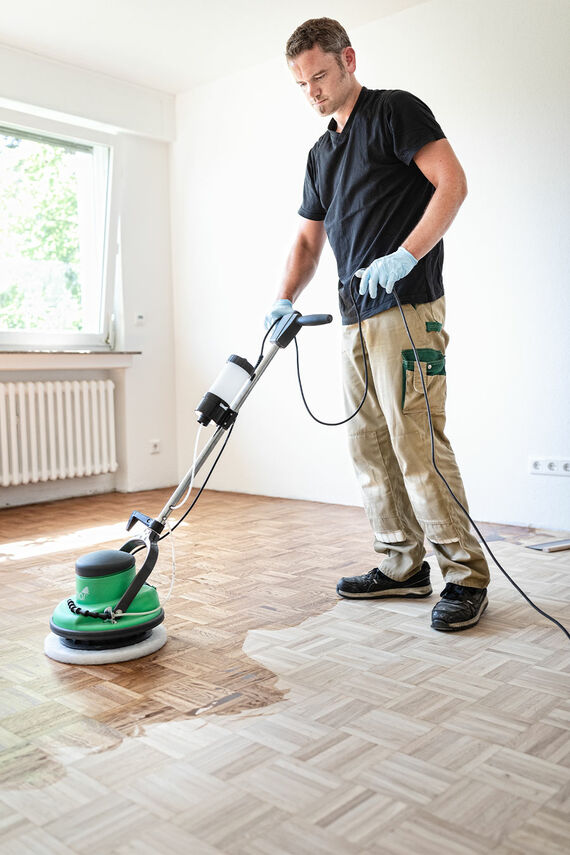 High-performance product for professional results
An economical application means a real advantage over the competition for craftspeople. Here too, 2K Holz-Öl from Osmo makes a hit: even with just one coat, a long-lasting, attractive and durable surface is created. Thanks to its high product coverage, only one litre of 2K Holz-Öl is needed to coat an area of 40 to 50 square metres in size. Another plus point: thanks to its innovative binding agents, the certified low-VOC surface is already accessible after only one day.
Due to its short drying time and its safe low-maintenance surface, 2K Holz-Öl is perfect for commercial interiors, such as in nursery schools, schools, canteens as well as other public areas.
For treating smaller areas, 2K Holz-Öl is also ideal. The desired amount can be easily mixed together as necessary. The clear plastic cover included in the packaging can be used as a measuring device. Thus, either the total contents of the hardener can be added to the can or – thanks to the cover – an exact amount can be prepared. After carefully mixing together both components, the coating is ready for immediate use. Pot time is three to four hours.
The product is applied with an Osmo Double Scraper, Professional Scraper or Microfibre Roller, and afterwards, it is worked into the surface with a single-disc machine or Osmo HandXcenter.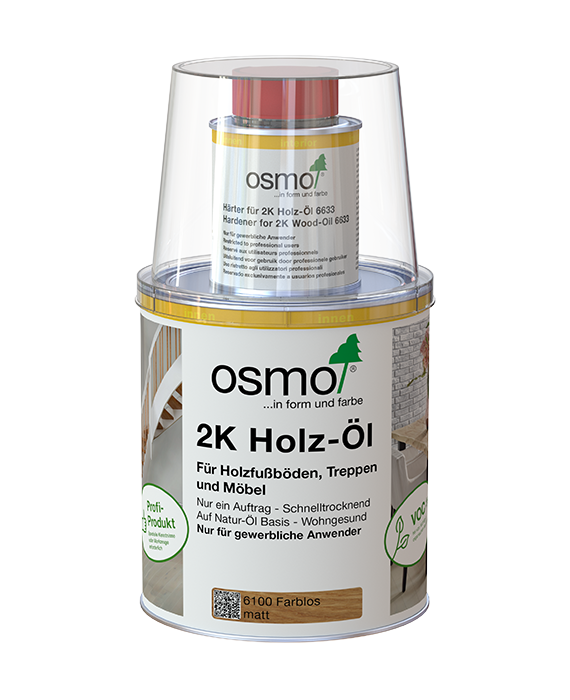 Colourful variety
When fulfilling complicated customer wishes, not only does the product functionality play a role, but also optical factors. Depending on personal taste and interior design, various colour treatments may be required. With ten colours and a clear variation, 2K Holz-Öl offers plenty of design freedom; moreover, all 2K Holz-Öl colours can be mixed with each other – this offers almost limitless possibilities to get creative.