A splash of colour for the garden
Ecological exterior wood finishes create a finished surface in one day
Regardless if it is a garden, a balcony or a summerhouse – having your own outdoor area adds value to a home. This is where children can play, parents relax, and everyone can enjoy a restful time together. So that this "green oasis" becomes a great place for the whole family to unwind, not only is good planning required, but also the use of sustainable and ecological materials. By using wood for swings, decking and privacy fencing, a good foundation has already been laid. Now the only thing standing in the way of a peaceful afternoon in the garden is a coating that protects wood against the weather and that is completely safe for the family.
Garten- & Fassadenfarbe from Osmo impresses with its environmentally friendliness as well as with excellent workability. Low on solvents and free of biocidal active ingredients are qualities that make it the best choice for garden timber – especially for playground equipment. Another plus point is the simple application and fast drying properties – the first coat can be recoated after only three to four hours.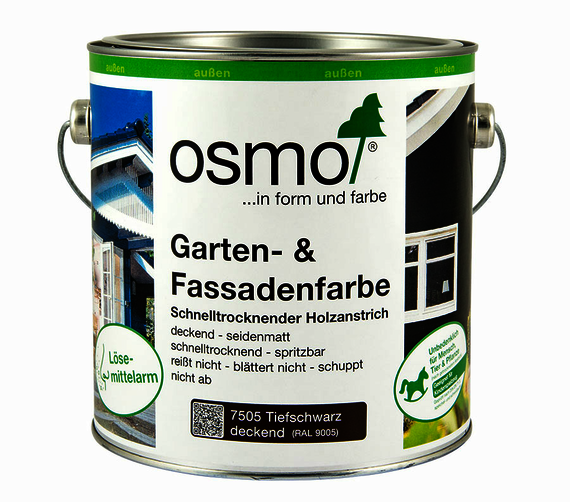 The scratch and dirt-resistant finish is water repellent as well as weatherproof and UV-stable. To give wood elements in the garden a personal touch with a splash of colour, there is a choice of 15 standard colours as well as further RAL and NCS colours available upon request.
A hotchpotch of various colours – a blue swing next to the red garden shed and the yellow sandbox – is possible as well as a stylish tone-on-tone design for fencing and carports or cladding and window shutters.