Why Osmo is all the buzz to bees
Busy little helpers
Without bees, not only would we humans have to do without honey, but there would also hardly be any strawberries and oranges, broccoli and cucumbers, apples and soybeans. About two thirds of our crops are pollinated by bees, and about 90 per cent of fruit trees. Alone in Germany, they carry out free pollinating work valued at 2 billion euros each year.
But, bees are not doing well. This results from the use of bee-harming neurotoxins in insecticides. That is why the EU has forbidden the use of three neonicotinoids. Meanwhile there are many people who are helping bees by building nesting boxes for wild bees and by planting early blossoming bushes and flowers.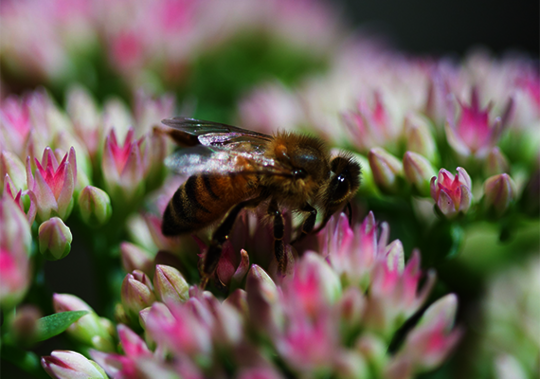 Bee-friendly coatings
An important contribution to bee conservation is made by beekeepers. To farm honey, they set up beehives to house their bees. These beehives are traditionally made of wood and must be protected against rot through a wood coating – of course, a bee-friendly one without insecticides.
For the protection of their hives, beekeepers often turn to Osmo Landhausfarbe or Einmal-Lasur HSPlus. The natural oils penetrate the wood and keep it elastic. Moisture can be released so no mould develops under the coating. Pigments in the coating are approved for the food industry, and no harmful aromatic compounds and preservatives are used – to create a place where bees love to live.
Good to know: Can bees see colour?
Colourful beehives dot the landscape. But, do bees actually see colour? Yes, but not the same way as we do. Bee can see UV light; in exchange, they cannot see red. What we see as red is black to them; our yellow is their purple. Only blue looks pretty much the same to both bees and humans. When bees want to make their way back to the hive, the hive colour only plays a marginal role. They orient themselves first and foremost by recognizing shapes and landscapes, and after that the colour of their home.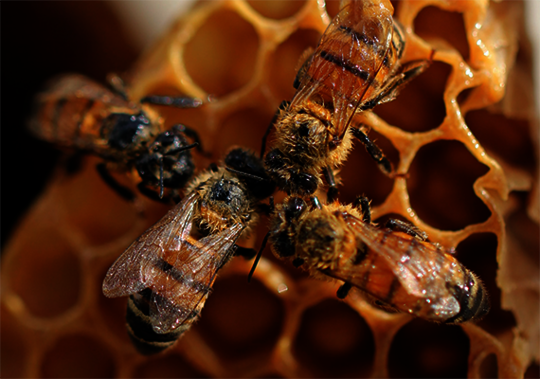 Bienenfreundliche Produkte