A healthy foundation
Sustainable solid wood flooring forms an optimal basis for generations to come.
Smell, look and touch – you perceive your surroundings with all of your senses and feel the influence that the materials used have on your sense of well-being. It is so good to have everything at home completely in your own hands and to be able to create rooms tailored specifically to your needs. For those who value sustainable and healthy construction materials, wood is an excellent choice. Flooring made from this natural material makes a hit with its attractive appearance, durability as well as pleasant touch and feel. Solid wood flooring is pure nature as it is made from one piece of wood; in comparison with engineered parquet flooring, it requires less energy and no glue to be manufactured. Besides that, solid wood flooring can be sanded and refreshed several times, and for renovations, new floorboards do not have to be installed. Therefore, it is a robust and sustainable basis for a beautiful home – when well kept, for even generations to come!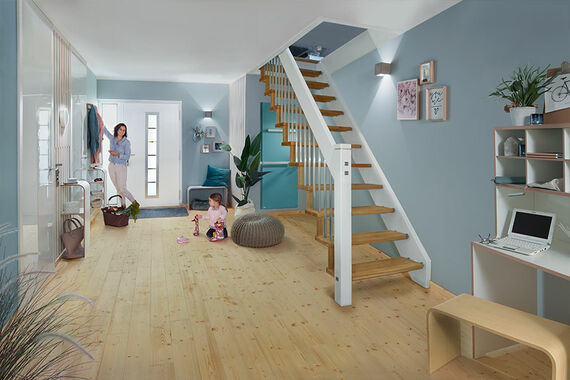 Osmo offers a comprehensive range of high-quality wooden flooring, which depending on the wood species, format or grade, a unique ambience can be achieved. So that the flooring stays attractive and durable, it is factory-finished with a special industrial Polyx®-Oil. With this coating, it is extremely resistant as well as long-lasting and impresses with a low susceptibility to dirt and low maintenance requirements. Another benefit: after installation, factory-finished solid wood flooring does not need any initial care treatments – just pick out the right flooring, install and relax! And with the good feeling that in Polyx®-Oil, only oils and waxes approved for the food industry are used.