Outdoor fun in every weather condition
Open-air saunas and jacuzzis optimally equipped thanks to Holzschutz Öl-Lasur
Having a sauna or jacuzzi in the garden turns the great outdoors even more into a place where you like to spend time. Not only on hot summer days, but also in the winter. After all, there is nothing better than coming out of the warm sauna on a snowy winter's day into the garden.
Such open-air saunas and jacuzzi are the specialty of Spa Zone Ltd. For the construction of their outdoor wood products, the Bulgaria-based company know that they must take sun, wind, snow and rain into consideration. That is why the manufacturers preferably use European Larch and Spruce for the exterior timber cladding and elements. These coniferous softwoods are easily used and well-suited for outside construction; in addition, they contain resins and oils that act as a natural impregnation.





Solely on the naturally given properties of the wood species, Spa Zone did not want to rely, so they looked for a suitable wood coating based on natural oils and waxes. The manufacturers found their luck in Holzschutz Öl-Lasur from Osmo. A microporous and breathable coating is produced that is water-repellent and dirt-resistant as well as extremely weatherproof and UV-stable. The coating enhances the wood colour and grain, and provides the wood with an elegant appearance. For the suitable staining effect, Spa Zone choose 707 Walnut, 708 Teak and 727 Rosewood from the more than 15 colours in the Holzschutz Öl-Lasur range.
After the surface treatment, the coating is protected against mould, algae and fungal attack through the biocidal active ingredients. And thus, the wood is optimally equipped to face all weather conditions. Now nothing can stand in the way of a relaxing day in the garden sauna or jacuzzi.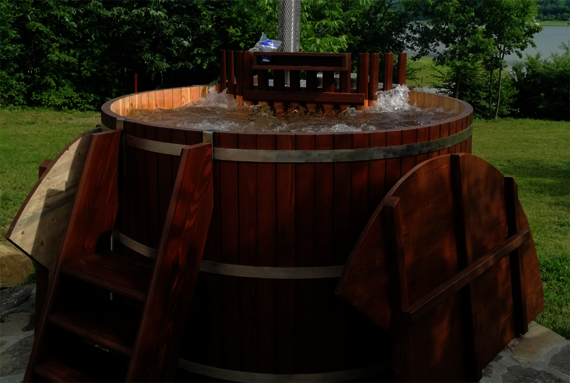 This could also interest you