NOSTALGIC TREND: VINTAGE BENCH IN THE GARTEN
A HINT OF NOSTALGIA IS IN THE AIR THANKS TO THE DO-IT-YOURSELF VINTAGE LOOK.
Garden bench in vintage look – How it's done:
Here we show how to step by step turn a simple garden bench into a gem in a trendy vintage look. This technique can obviously be used on any piece of furniture made from wood – regardless of whether used or new.
For outdoor areas, we recommend Osmo Landhausfarbe. It is easy in application and, when dry, completely safe – which cannot be said for old, flaky lacquers of uncertain origin. Plus, Osmo Landhausfarbe protects the old beauty reliably against wind and weather.
What you need:
Osmo Flat Brush
Osmo Holz-Imprägnierung WR
Osmo Landhausfarbe in two different colours
Very fine sandpaper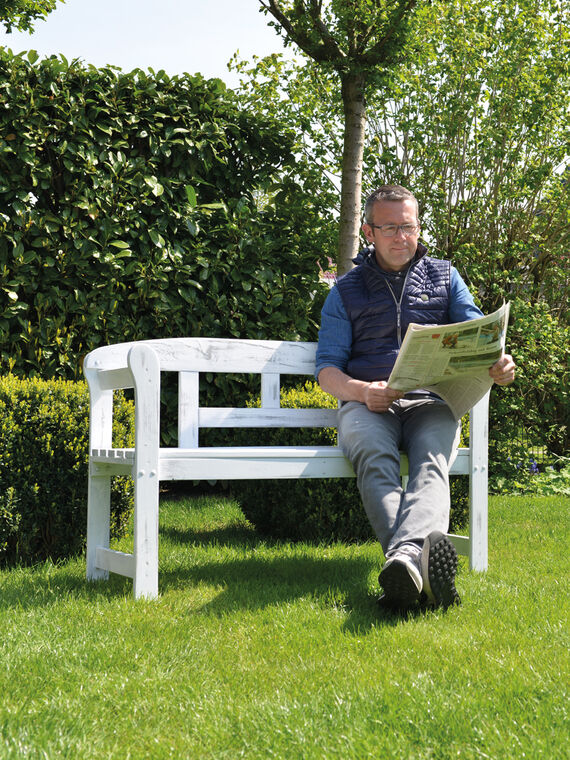 HERE'S HOW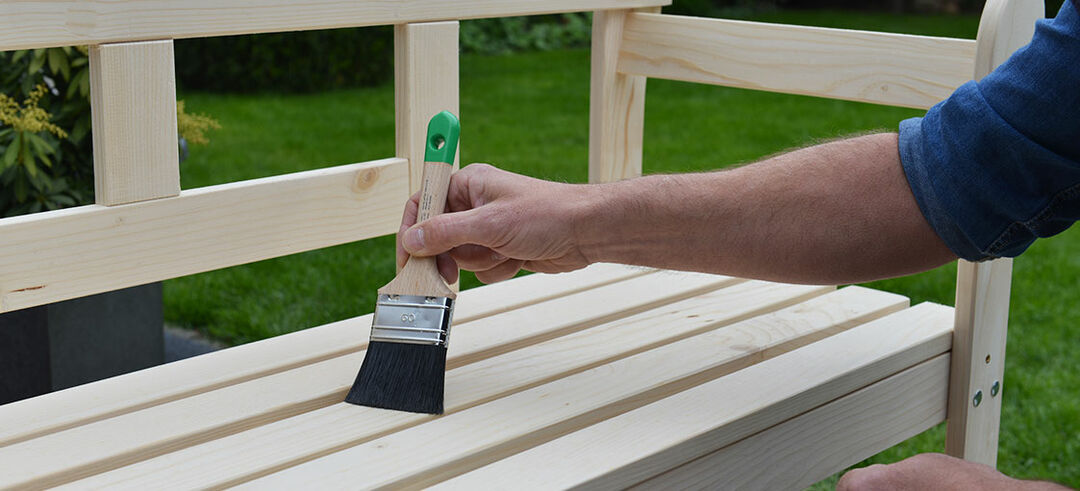 Impregnation with Osmo Holz-Imprägnierung WR: Holz-Imprägnierung WR is highly water-repellent and protects against rot, blue stain and insects. Coat the dry and clean wood generously on all sides.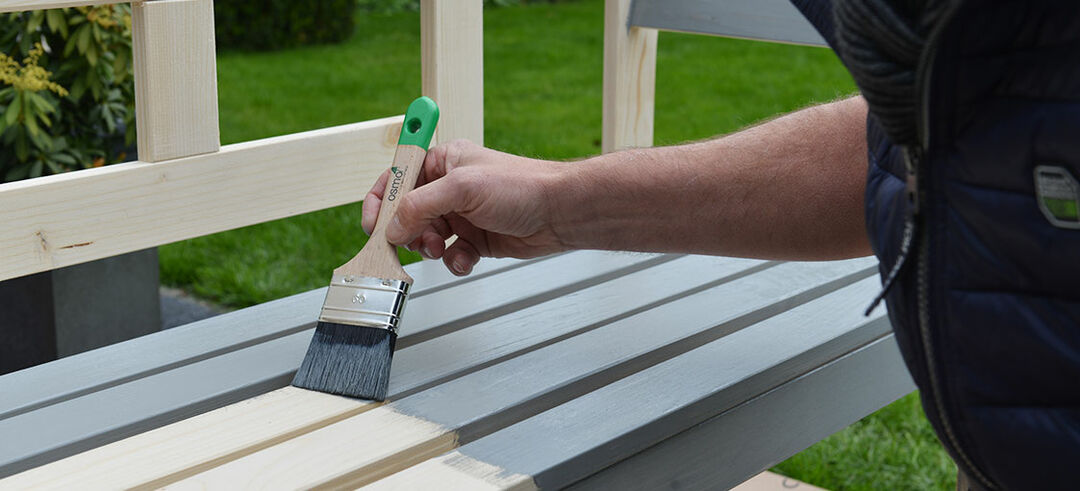 The impregnation must dry for at least 12 hours. Then apply the first coat of Osmo Landhausfarbe 2742 traffic gray A thinly with a brush.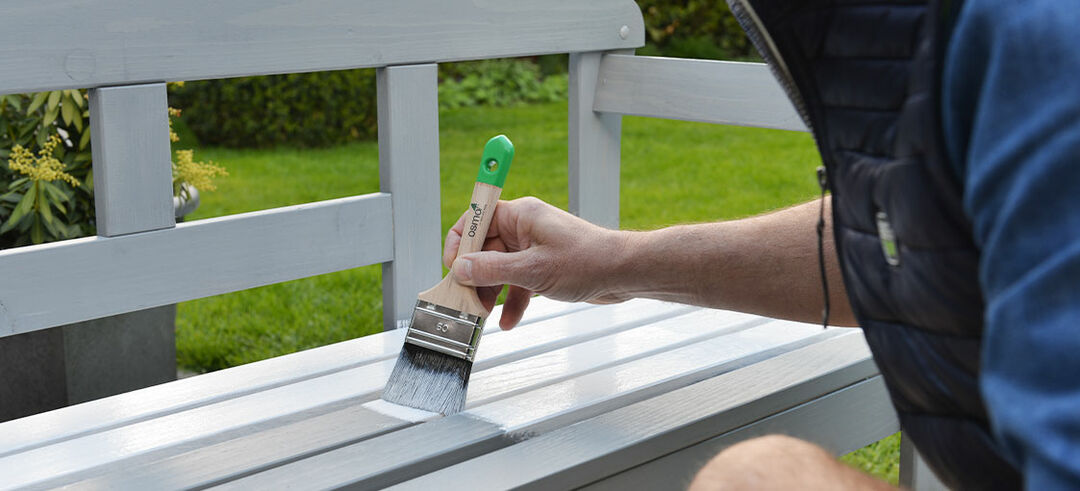 After a drying time of twelve hours, paint the bench again with Osmo Landhausfarbe 2101 white. Again apply a thin layer on all sides.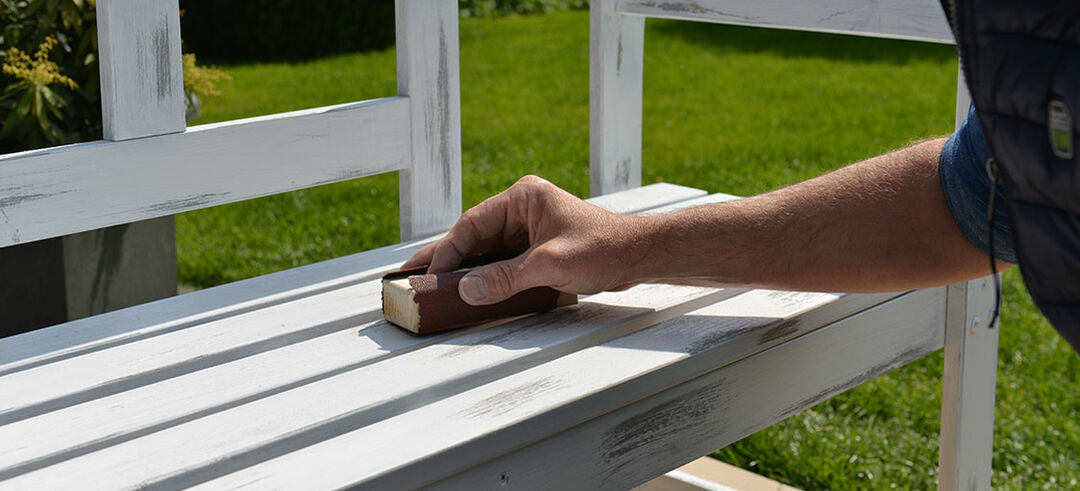 The vintage look is achieved with very fine sandpaper. Carefully sand only the top layer of paint. Always work with the wood grain. The signs of wear look particularly natural if you work primarily around the edges.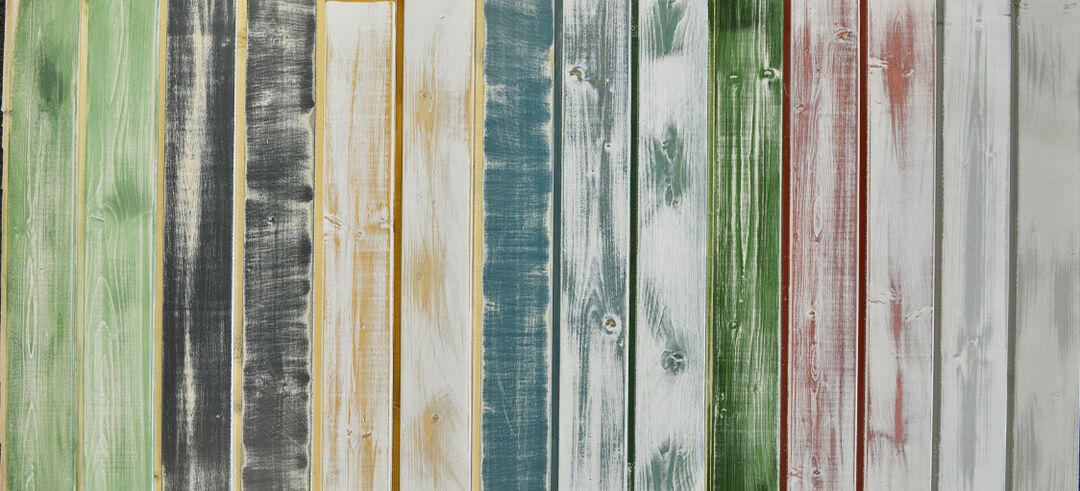 Instead of grey and white, you can also use other colors and combinations out of the Osmo color range. Always choose the darker shade for the first coat. For example, the combination of Landhausfarbe 2501 Labrador Blue and 2507 Dove Blue looks really nice.
Show love for your garden!
What garden projects have you carried out with Osmo products? Finished the garden shed in a new colour? Set up a bee-friendly privacy fence with Osmo Green-Fence? Created a vintage look on the old garden bench? Or put together a bar counter with Osmo Furniture Pallets? Share your projects with us! Take some pictures and post them on our Facebook page or on Instagram with the hashtag #osmogartenliebe. We're looking forward to seeing your ideas. Happy Posting!
#osmogartenliebe