Make wood texture pop
THIS IS A REALLY SPECIAL EFFECT: Combine two colours on one textured surface. The more texture the wood has, the more vibrant the surface will be. The two-tone technique completely alters the look of furniture, doors and wood panelling and adds bold accents. If you like the unusual, give it a try – You'll love it!
What you need:
> Osmo Dekorwachs in two different colours
> Wire brush drill attachment
Two-Tone example combinations
TWO-TONE TECHNIQUE – HERE'S HOW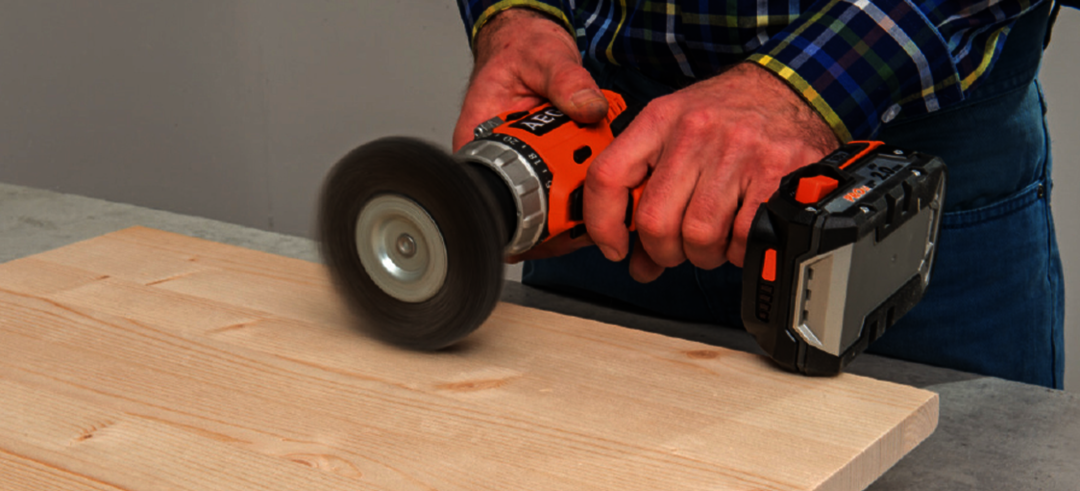 For the two-tone design, the wooden surface must be structured. The best way to do this is to use a drill with a brass brush attachment. Let the brass brush attachment slide over the wooden surface with gentle pressure in the direction of the grain.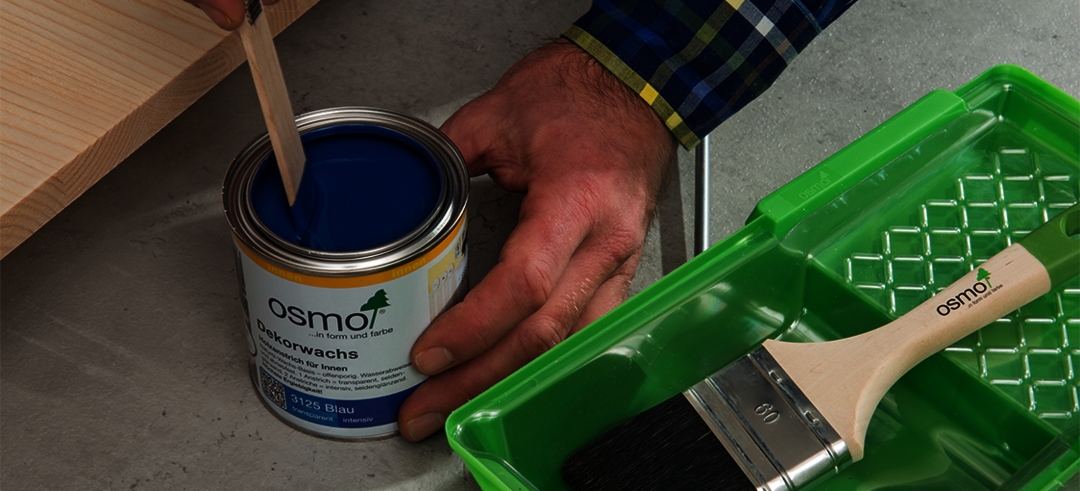 The Osmo Dekorwachs is applied without a primer. Please stir the contents of the can thoroughly beforehand so that the color pigments mix well.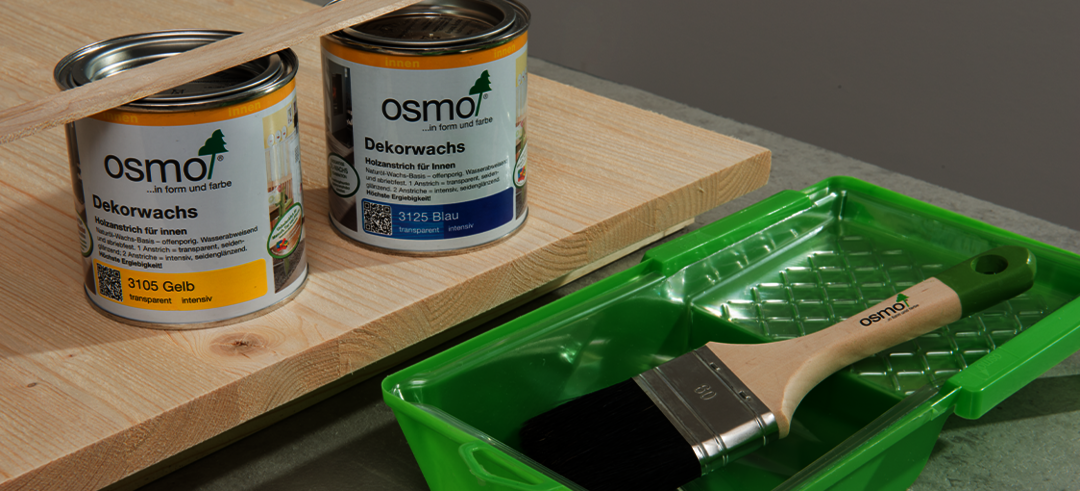 For our color proposal in the duo-tone technique, you need: Dekorwachs in the intensive tones 3125 blue as the basic tone and 3105 yellow as the second color tone. Osmo Dekorwachs makes the surface water and dirt repellent.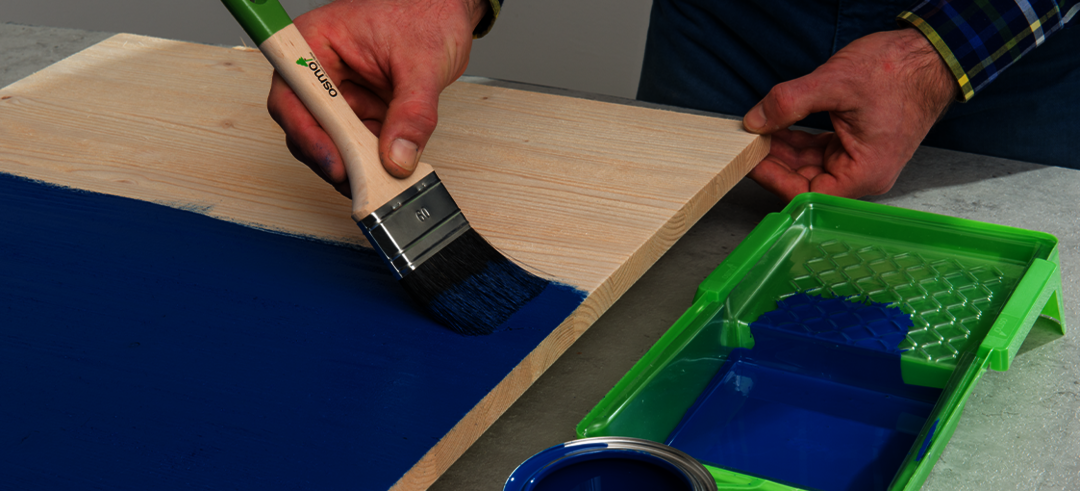 Paint the surface thinly with an Osmo flat brush or an Osmo microfiber roller in the direction of the grain.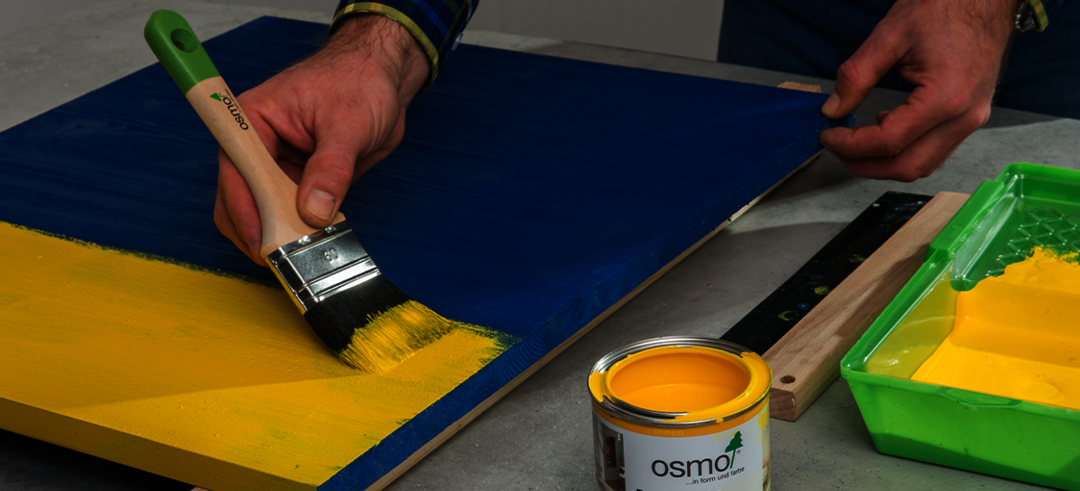 After a drying time of at least 24 hours, the surface can be painted with a second color.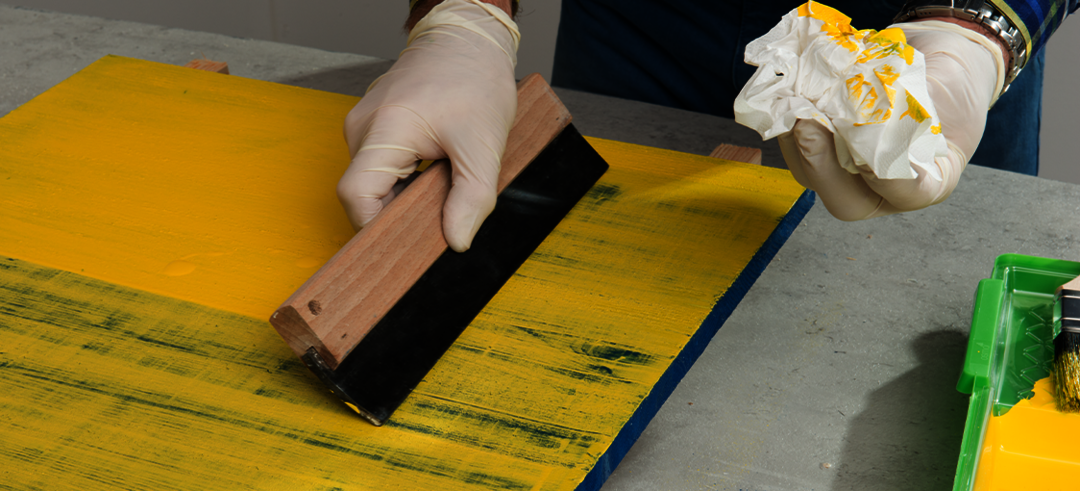 Now it has to be done quickly. Before the Dekorwachs dries, peel off the still wet second coat with a Rubber Scraper and repeatedly wipe the lip. This way, the basic tone becomes visible again in the raised areas and the second coat remains in the grooves. Let the Osmo Dekorwachs dry for a further 24 hours.
Show creativity!
What creative projects have you carried out with Osmo products? Have you created a raw wood look on your solid wood flooring? Crafted a games table with the kids? Or make the wood grain in your wardrobe stand out with the two-tone technique? Built a herb shelf for your kitchen? Share your projects with us! Take some pictures and post them on our Facebook page or on Instagram with the hashtag #madewithosmo. We're looking forward to seeing your ideas. Happy Posting!
#madewithosmo