Solid wood flooring for do-it-yourselfers
PURE QUALITY LIVING FOR GENERATIONS
The optimal basis for DIYers: Osmo Concept-Flooring can be installed on any subfloor. Its long lifetime makes it an especially sustainable floor covering that will provide high-quality living for generations to come. What does the flooring of your choice look like? With Osmo, you can design your own individualized flooring and install it yourself!
100 % NATURE ON EVERY SUBFLOOR
No matter whether on existing wooden floorboards, cement, dry levelling compound or linoleum: Osmo Concept-Flooring can be installed on virtually every subfloor. This makes it easier for you not only as a DIYer, but also makes it to decide on your uniquely natural flooring.
THE ADVANAGES OF SOLID WOOD FLOORING:
One-of-a-kind appearance, every floorboard is unique
Sustainable natural product without adhesive or bonding agent
Solid wood regulates surrounding moisture, which has a positive effect on the indoor climate.
Long lifetime, since it can be sanded again and again
Surfaces treated with Hartwachs-Öl are easy to maintain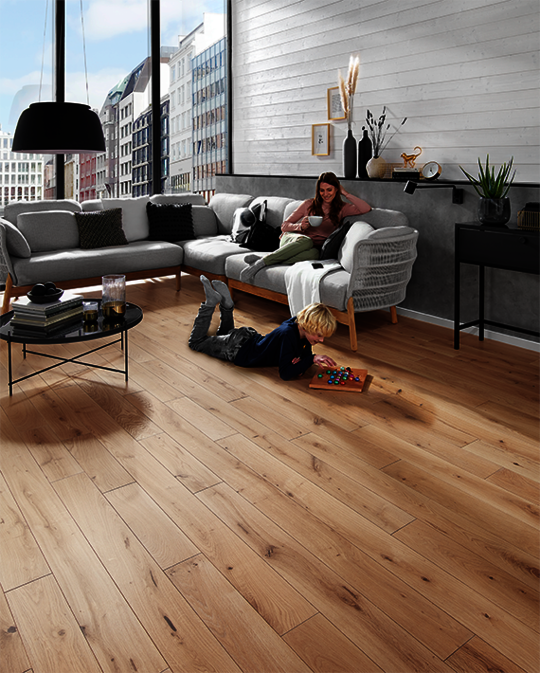 Installation types: everything is possible
FIXING WITH SCREWS ON EXISTING WOODEN
FLOORING, FLOOR JOISTS OR OSB BOARDS:
Osmo Concept-Flooring can be easily fixed with screws on existing wooden flooring. The new floorboards must however run perpendicular to the old floorboards.
---
FULL-SURFACE GLUING:
This method is becoming more common: your advantages are low indoor noise, low structural height, less gaps and better heat permeability. Elastic adhesives allow the glued solid wood floorboards to expand and contract.
---
FLOATING INSTALLATION:
It is the best choice when the existing subfloor and its properties are difficult to determine. The advantages: low footfall noise and low structural height.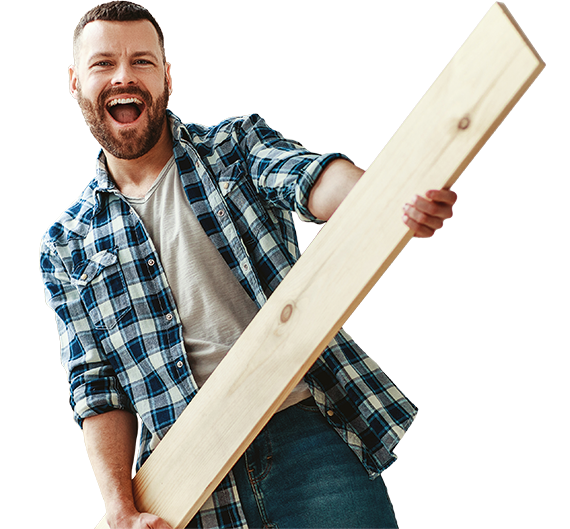 Installation types: everything is possible
1. WOOD GRADES: OAK TWO TIMES
You have the choice between Oak Natural with a harmonious, even appearance as well as Oak Rustic with a lively wood grain.
2. SURFACE TEXTURE: TWO TO CHOOSE FROM
You can choose between two textures: the sanded variant offers a smooth and subtle surface; the brushed version gives flooring an authentic touch full of character.
3. COLOURS: SEVEN VARIANTS
There is something here for everyone – from clear oiled to four different levels of white and an untreated wood appearance with Raw Look and Natural. No matter what you decide on, you are always on-trend.
SUSTAINABLE THANKS TO GOOD CARE
Appropriate care with Osmo products is sustainable.
Osmo cleaning and care products are made of natural ingredients.
All products are perfectly formulated for Osmo solid wood flooring.
Simple application and safe
Makes your natural flooring durable and hard-wearing.
This could also interest you