Optimal for colourful children's bedroom
Especially when furnishing children's bedrooms, a healthy living environment is the first priority. With Osmo Dekorwachs, you can simply coat wood panelling, furniture and toys in your children's favourite colour: the saliva and perspiration-resistant wood finish is completely safe.
Colourful and healthy all around
Cheerful und brightly coloured, comfortable and cosy, creative and whimsical – or the best is everything all together? No matter how you would like to furnish and design your child's bedroom, Osmo has the appropriate materials, the optimal wood finishes and even the right tools. With Osmo Dekorwachs, you can finish everything made from wood in your colour of choice: furniture, panelling, doors, picture frames and even toys. After all, the wood finish is not only easy to apply; Osmo Dekorwachs is also completely safe when dry. Therefore, it is the perfect choice for a both individualized and healthy children's bedroom.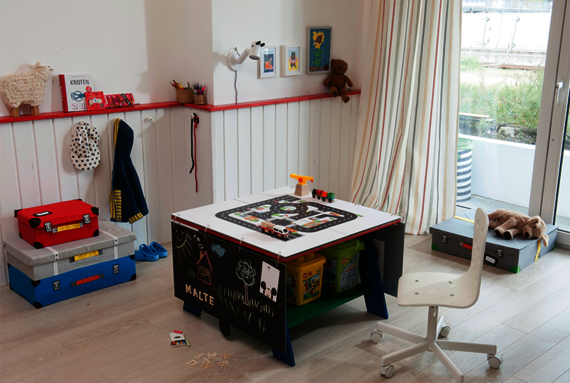 First tip: wood panelling adds cosiness
Children use every square inch of their rooms for playing, including the walls. With suitable wood profiles, you can not only protect exposed wall surfaces effectively against dirt and wear. You also provide a homelier atmosphere and open up a multitude of design possibilities for the children's bedroom. After all, this is where a splash of colour can be added with Osmo Dekorwachs: profiled wood can be as colourful as you desire and finished with a child-friendly coating, for example trim with a coloured accent. And without much effort, as needs no priming is needed for the wood finish.
25 different colours are available in the Osmo Dekorwachs colour palette. Especially popular with children are the distinct and bold colours red, yellow, blue and green. Your child will definitely have fun picking out the colour of their choice.
Second tip: DIY with lots of imagination
Walrus, penguin or fox? With the favourite animal watching over the jacket, it is so much more fun to use the coat rack.
A children's coat rack can be put together easily. Along with some plywood or an edge-glued panel, wood finishes and some imagination are the most important ingredients. We have the right finish for you: Dekorwachs has a simple application and is completely safe when dry. As far as the imagination is concerned, we fully rely on you. Or your children.
As a little suggestion, we offer you a couple of funny animal heads here. The base form is always a circle, which you can easily draw with a dinner plate as a stencil. All other curves, like the area for the beard of the walrus or the areas around the eyes of the penguin and the fox can also be simply pre-drawn with a plate.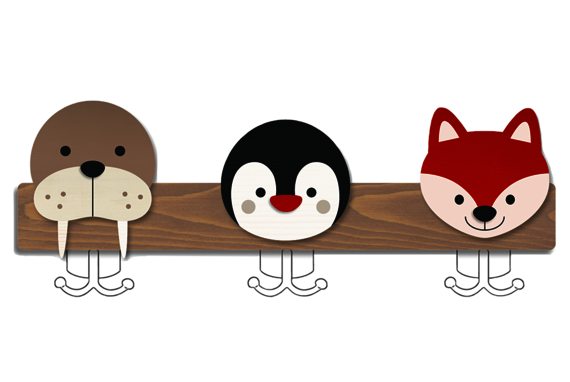 This could also interest you