Getting creative with Osmo Furniture Pallets
DO YOU ENJOY HAVING COMPANY OVER? THEN FURNITURE PALLETS ARE JUST THE THING FOR YOU. WITH A CORNER SOFA MADE OF OSMO FURNITURE PALLETS, YOUR FRIENDS CAN VISIT WHENEVER THEY LIKE. THERE ARE ALWAYS ENOUGH PLACES FOR EVERYONE TO SIT – AND EVEN A GUEST BED CAN BE SET UP AT A PINCH.
In contrast to large bulky couches, Furniture Pallets offer flexibility in the amount of space required and can be adjusted to suit homeowners' needs. And so they can use the entire length of the wall or create room divider.
If you are moving or just do not like the look of your living room, you can easily dismantle pallets and rearrange them. Plus, when you need to use the room for a different purpose, they can be stacked to save space.
Osmo Furniture Pallets differ from ordinary transport pallets in their fine workmanship and their high-quality surface finish. The softwood is dry, free of splin ters and factory finished.
Furniture Pallets are coated at the Osmo production facilities with a microporous dark grey or white oil finish. They only have to unpacked, put together and perhaps fixed with a few screws. Time-consuming sanding works and surface finishing can be skipped. From the very beginning, Osmo Furniture Pallets have a great look and are ready to be transformed into clever furniture designs.
If you decide to recoat Osmo Furniture Pallets in a different colour, this is significantly easier and requires less finish than coating the raw, coarse wood of transport pallets. They can be refinished with other wood finishes from Osmo without any difficulties. For inside the home, Osmo Dekorwachs is highly recommended. It comes in a variety of trendy colours.
For the choice of cushions, you can let your imagination run free. A particularly harmonious setting is created in rooms when furniture cushions pick up the same colour that is in curtains or rugs.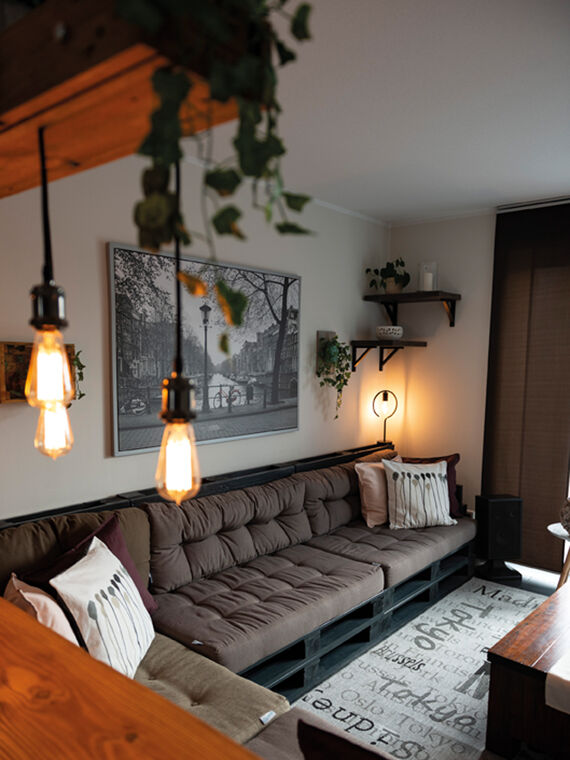 Show creativity!
What creative projects have you carried out with Osmo products? Have you created a raw wood look on your solid wood flooring? Crafted a games table with the kids? Or make the wood grain in your wardrobe stand out with the two-tone technique? Built a herb shelf for your kitchen? Share your projects with us! Take some pictures and post them on our Facebook page or on Instagram with the hashtag #madewithosmo. We're looking forward to seeing your ideas. Happy Posting!
#madewithosmo