Add more colour to the garden
Nothing beats relaxing in your own garden on a summer's day. A few touches of colours in the right spots and the enjoyment of the garden could be even better. Freshen up your outdoor paradise a little bit: no matter whether you are touching up a fence or the old garden shed, with the right products from Osmo, small renovation projects are quickly done. That way you have more time to enjoy your garden.
Do you like a summerly splash of colours? Or trendy urban grey? Or do you prefer transparent stains that emphasize the typical wood character and also provide long-lasting protection? We can help you with our products and give you tips on how to add more to your garden.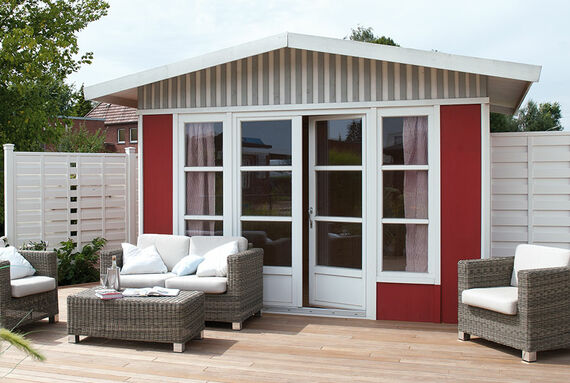 New perspectives from grey to colourful
Put colour into play
On garden fencing, you can apply Osmo coatings and finishes directly without any sanding; this is also the case when Osmo products were used for the previous coating. For coatings from other manufacturers, we recommend sanding down the surface. It is best to use a roller on smooth surfaces and a brush for uneven areas and corners. Our tip: with opaque finishes, the strongest coloration is achieved – so your fence is beaming and your smile too.
Our recommendation
> Osmo Garten- & Fassadenfarbe is suitable for all exterior wood. It is waterborne, fast drying, low in solvents, free of biocides and available in many colours, which can be mixed with each other. That way you can make your most colourful dreams come true.
> Osmo Landhausfarbe is our classic wood finish for a wide variety of colours and unsurpassed durability in all weather conditions. The colours can be mixed with each other. Try out for yourself and create your own personal colour.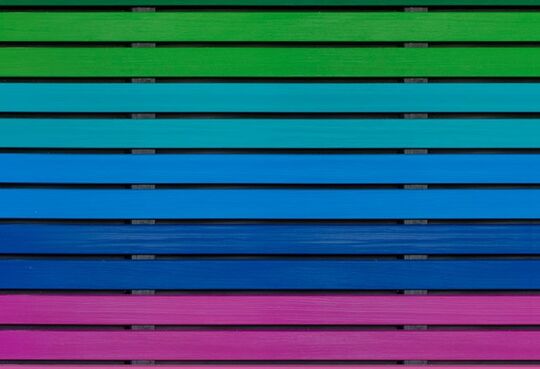 On-trend colour grey – in all facets
Grey is surprisingly versatile and completely on trend. Combine your favourite shade of grey creatively, for example, with white or other colours and turn your summerhouse into a stylish outdoor lounge: which grey and which design suits your garden?
Our recommendation:
> With opaque finishes, you can create uniform areas of colour with rich contrast.
> If you prefer to have the characteristic wood grain shine through, you should pick a transparent wood stain.
> Do you have a certain shade of grey in mind? By adding black or white to a finish (from the same product line), you can easily produce exactly the grey colour of your choice.
> Starting from 2.5 litres, you can order the colour of choice from your local dealer.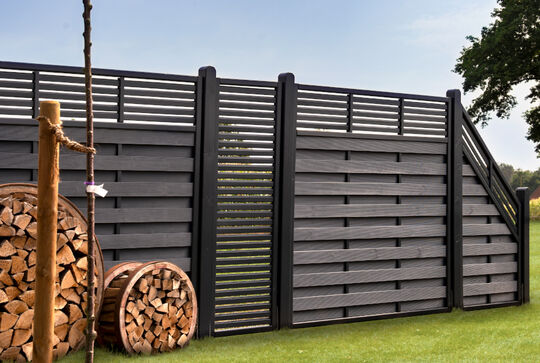 Stains make wood stand out
Do you love the natural texture of wood? Osmo offers a wide choice of transparent stains, which are easy to use, preserve the look of natural wood grain and make it even more attractive. Perfect for unique character designs for the garden!
Our recommendation:
> Osmo Einmal-Lasur HS Plus is perfectly suited for a transparent stain which leaves the wood grain still visible. You only need one coat. The high oil content doubles the coverages –this saves time and money.
> Four new colours add more design possibilities: 9203 Basalt Grey, 9205 Patina, 9206 Light Oak and 9207 Quartz Grey.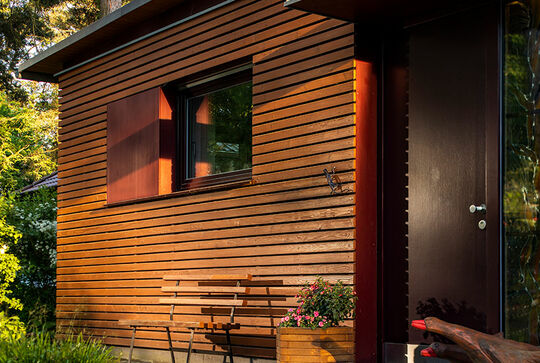 Show love for your garden!
What garden projects have you carried out with Osmo products? Finished the garden shed in a new colour? Set up a bee-friendly privacy fence with Osmo Green-Fence? Created a vintage look on the old garden bench? Or put together a bar counter with Osmo Furniture Pallets? Share your projects with us! Take some pictures and post them on our Facebook page or on Instagram with the hashtag #osmogartenliebe. We're looking forward to seeing your ideas. Happy Posting!
#osmogartenliebe