Accessories for Osmo Timber Cladding
Construction Wood
Construction wood Spruce/Pine
---
ADVANTAGES
Leveled/planed
2 chamfered edges
C24 grade for non-exposed areas (NSi), S10 acc. German DIN 4074
Wood content moisture 15 % (+/- 3 %)
Black coloured or also untreated
---
Wall Lining Membrane
APPLICATION
For creating a windtight closure of exterior walls. Installation under the substrate. Application for behind closed or open cladding. Suitable for structures with suspended cladding (max. 35 mm gap width, mind. 20 mm rear ventilation between wall lining and suspended classing / Rhombus boards). The black printed side must be laid facing outwards.
---
ADVANTAGES
Highly dif­fu­sion-per­meable, but with max­im­um res­ist­ance to driv­ing rain
Op­tim­um dry­ing con­di­tions for wall struc­tures: non-por­ous TEEE func­tion­al mem­brane act­ively trans­ports mois­ture out­wards
Black fleece and black print pre­vent the mem­brane from show­ing through suspended cladding
6-month out­door ex­pos­ure
---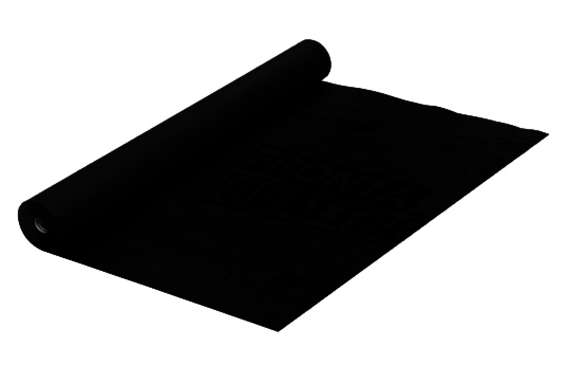 AD­HES­IVE TAPE BLACK
All-round ad­hes­ive tape for the interior and exterior
APPLICATION
Black ad­hes­ive tape with waterproof adhesive. Perfect for the wind­tight, invisible adhesion and joints of wall lin­ing mem­branes e.g. SOLI­TEX FRONTA QUATTRO behind sus­pen­ded and closed cladding.
---
ADVANTAGES
All-round ad­hes­ive tape for in­tern­al and ex­tern­al use, 6 months out­door ex­pos­ure
Easy to tear off by hand with a soft fleece back­ing
Suit­able for seal­ing to pen­et­ra­tions
Also used for windtight ad­he­sion of wall lin­ing mem­branes be­hind sus­pen­ded cladding
Wa­ter­proof ad­hes­ive
Best rat­ing in haz­ard­ous sub­stance test
---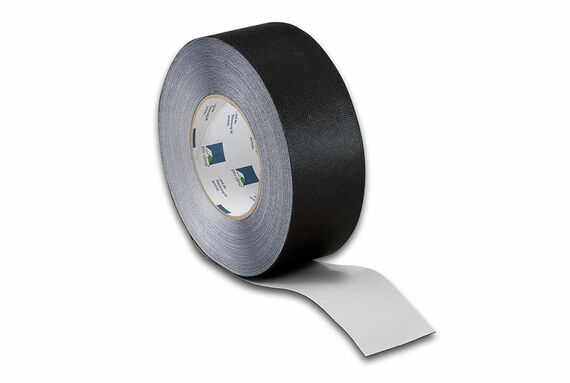 JOINT AD­HES­IVE GLUE ORCON F
Very high strength and fast drying
APPLICATION
Airtight joint ad­hes­ive glue for wall lining membranes.
---
ADVANTAGES
Very high ad­he­sion and quick dry­ing. No pres­sure lath is re­quired on load-bear­ing sub­strates
Air­tight bonds ac­cord­ing to DIN 4108-7, SIA 180 and OENORM B 8110-2
Very elast­ic, per­man­ently flex­ible
Can also be stored in the event of frost
Best rat­ing in haz­ard­ous sub­stance test
---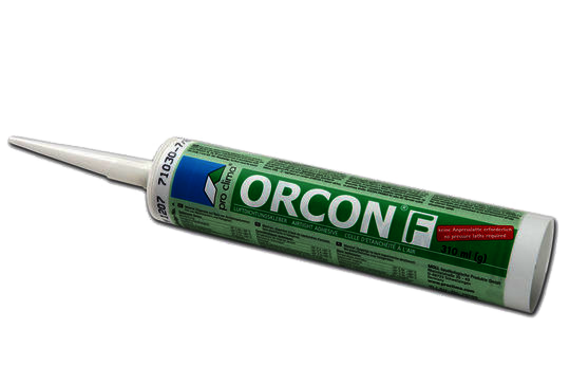 Aluminium Profiles
Optimal effect with optimal protection
---
ADVANTAGES
Pre-finished
Ready to install
Hidden fixation
For wooden cladding up to 29 mm material thickness
Exposed side powder-coated in RAL colour tone 9006 (White - Aluminium)
---
SPAX®-S Stainless Steel Screws
ADVANTAGES
Rust-free
Drive: counter-sunk torque T20 with milling rib, wave profile, partly threaded, drilling head incl. bit
Diameter: 4.5 mm
Thread length: 30 mm
Lengths: 45, 50, 60 or 70 mm
---