New palace portal in an old look
Osmo natural-oil-based coatings protect artwork replica at Schleißheim Palace reliably against weathering and ageing.
Take a stroll into history and experience the connection between past and present first-hand: as historic buildings, people have always been magically drawn to castles. One of the largest former residences of the Bavarian royal family is majestic Schleißheim Palace Complex near Munich. It is considered one of the most important examples of Baroque architecture in Germany and consists of three individual buildings dating back to the 17th and 18th centuries, which are all connected into one impressive complex through an idyllic park and grounds.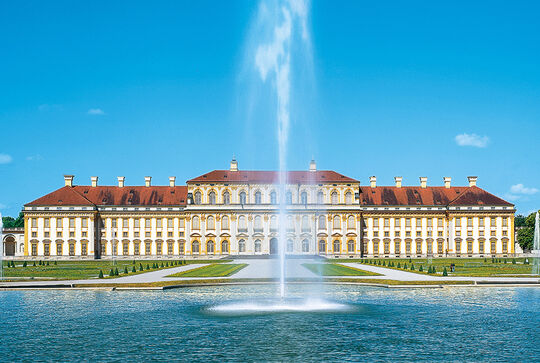 Originally built by Bavarian counts as a summer residence, today visitors can dive into the past at exciting expositions and on interesting guided walks. Already upon entering the New Palace, a special work of art creates an imposing entrance to welcome visitors: the masterfully crafted reproduction of the carved portal from 1763 by renowned sculptor Ignaz Günther. Since, after more than 250 years, the test of time had left significant signs of wear on the original gates, the Bavarian Palace Administration decided to replace the gates with a replica and to display the originals – well-protected from wind and rain – in the palace museum. Nearly 4,500 manhours went into carving out the intricate over-three-metre-high door relief made of solid Oak.
In order to provide the work of art long-lasting protection against weathering and to spare it the fate of the original piece, the restorers relied on the quality products from Osmo Holz und Color GmbH & Co. KG. For maximum efficiency, three different coating systems from the specialists for wood and finishes were used, Holzschutz Öl-Lasur, Klar-Öl-Lasur and UV-Schutz-Öl. Like all other Osmo coatings, they are based on natural waxes and oils, and due to their oil and wax content, they give wood a microporous breathable surface. Thanks to its wide colour palette, Holzschutz Öl-Lasur offers a lot of freedom for creative design. Besides its water and dirt repelling effect, it also protects wood reliably against mould, algae and fungal attack. To optimize this protection, a treatment of the gate surfaces with Osmo Klar-Öl-Lasur formed an ideal addition. This versatile wood coating not only helps to balance out the varying absorbency rates of the natural material, but it can also be used to produce a slightly glossy surface. So that the gates are also protected against intense UV radiation and its bleaching effect, the reliefs were top coated with a clear Osmo UV-Schutz-Öl. The convincing outcome proves that Osmo products achieve best results not only in private and commercial areas, but also for historic buildings and grounds. The great creative freedom impresses too by enabling an exact recreation of the original palace portal colour. The restorers were supported by Osmo coating advisor Falk Schuster, who was on site offering his extensive know-how and expertise.
Photos: ©Bayerische Schlösserverwaltung/www.schloesser.bayern.de