Royal UV protection for oak benches
Royal Hospital Chelsea counts on Osmo UV-Schutz-Öl Extra during renovations
Royal Hospital Chelsea is a retirement and care home for British soldiers in London. It was founded by King Charles II in 1681 and offers space for approximately 300 seniors. The building was planned by the famous British architect Christopher Wren, who among other things also designed the St. Paul's Cathedral. Already in 1692, the first veterans could move into the building.
The real eye-catcher of Figure Court, the oldest part of Royal Hospital Chelsea, is the colonnades: under the roof along the path lined with columns there are 300-year-old oak benches. These have to be looked after and renovated regularly. The goal of this year's renovation work was to protect the benches against UV radiation and to keep the natural colour tone of the wood.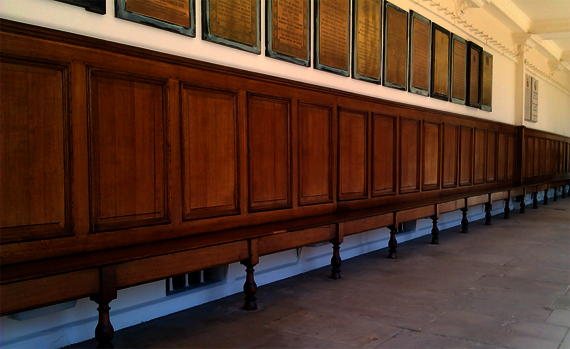 In order to achieve this, the craftsmen of Bluefish Decorating Contractors Ltd turned to a one of a kind product – UV-Schutz-Öl Extra from Osmo Holz und Color. It is the only UV coating that contains no coloured pigments and thus the natural colour tone of wood is retained.
The coating not only slows the greying process, but also extends the intervals between necessary renovation works significantly. In addition, UV-Schutz-Öl Extra from Osmo protects against algae and fungal attack. While coating, no blisters form and after drying the coating will not crack, neither peel nor flake. Spot repairs can even be carried out without previously sanding. After the treatment with Osmo UV-Schutz-Öl Extra, the old Oak benches shine like new.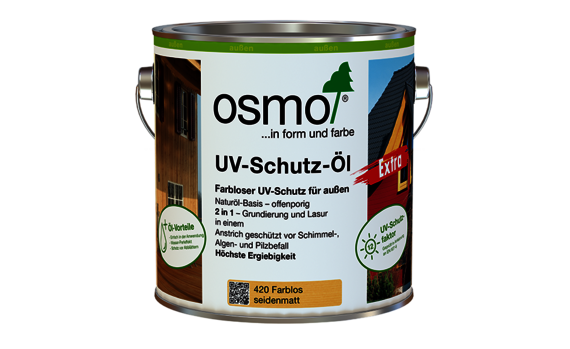 This could also interest you