Architecture and nature in symbiosis
The award-winning timber house Under Pohutukawa is protected with Osmo Hartwachs-Öl Original.
Like a deeply appreciative bow to the beauty of nature, the house Under Pohutukawa appears on the coast, which was erected west of Auckland by the architects Lance and Nicola Herbst. As an excellent example of modern and complex timber architecture, it has been awarded numerous prizes. To protect the timber indoors, the architects selected Osmo Hartwachs-Öl Original.
The surrounding forest pervades throughout the house: the living room is nestled under a canopy of Pohutukawa trees which allows sunlight to dapple through. The glassed roof and curtain walls allow unobstructed views of the outdoors. The timber truss resembles forks in a tree, and the bedrooms open out either to flat ground or tree crowns.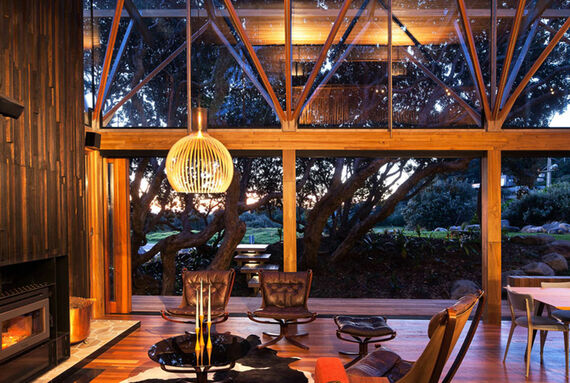 With the beach house Under Pohutukawa, the homeowners have fulfilled a dream. Here in Piha, one of the most breathtaking stretches of coastland near the New Zealander metropole Auckland, they wanted to create for themselves and their adolescent children a weekend getaway that combines high architectonic demands with respect for nature.
For the realization of their project, they commissioned the South African husbandand- wife architect team Lance and Nicola Herbst. Both of them had already made a name from themselves in New Zealand with beach properties on Great Barrier Island. But, Under Pohutukawa should be more than a mere beach house – namely a fully functional residential home in every detail and habitable year-round. As an excellent example of modern timber architecture, it has been won numerous awards and gained recognition worldwide.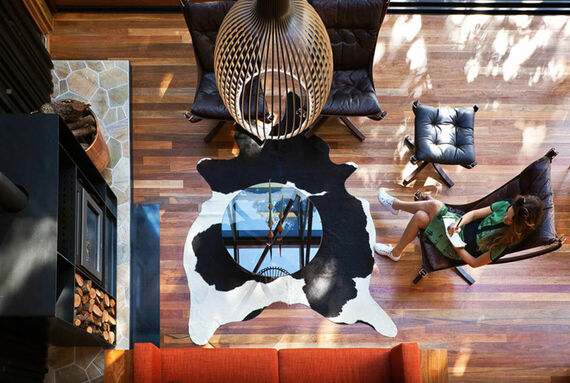 Hartwachs-Öl protects Eucalyptus flooring
While the house exhibits vast openness, the architects, however, gave particular attention to maintaining an ecological footprint that is as small as possible. The house is not immensely large, and for the building materials extra attention was given to environmental friendliness. The house should not only integrate with the landscape, but yield to it. Lance Herbst explains why, "For the home to exist, it would require the destruction of a number of trees. To do this, we looked to the trees and cut as few as possible. Still, for some in New Zealand this was a serious issue…"
The preferred building material was timber, both inside and out. This not only optically fits into the Pohutukawa forest well, but it is also one of the most eco-friendly building materials available. For the plank flooring, Eucalyptus wood was used, which forms a stunning contrast to the dark wall panelling made of Cedar. Also the furniture was made of Eucalyptus or other lightly coloured woods.
Almost the complete interior of the house was treated with Osmo products, in particular Hartwachs-Öl Original 3032 satin. Hartwachs-Öl retains the natural characteristic of wood and allows it to breathe. At the same time, it facilitates wood care and maintenance, and protects effectively against dirt and moisture. Due to the fact that it is based on natural oils and waxes, excellent for the living environment and eco-friendly, it became the prime choice to implement the architects' idea of a modern timber house that at the same ime, fulfils the clients' requirements, stands out architecturally and is gentle on the environment