Wood protection of the highest degree
For the treatment of church pews, the Frauenkirche Dresden Foundation relies on Osmo Hartwachs-Öl.
Sacred architecture attracts crowds and awakens in people a certain fascination. With 91 metres in height, 50 metres in length, 41 metres in width and a dome with a diameter of 26 metres, the Dresden Frauenkirche is quite an imposing sight. The monumental baroque building is regarded as the quintessence of protestant church architecture and looks back upon over one thousand years of history.
Also inside, especially the baroque altar with its richly ornamented adornments and the impressive inner cupola with its figurative paintings offer astounding views. So the interior woodwork will continue to shine for a long time, trust has been placed in the protective qualities of Osmo Hartwachs-Öl Original.
Photo: Ronald Bonss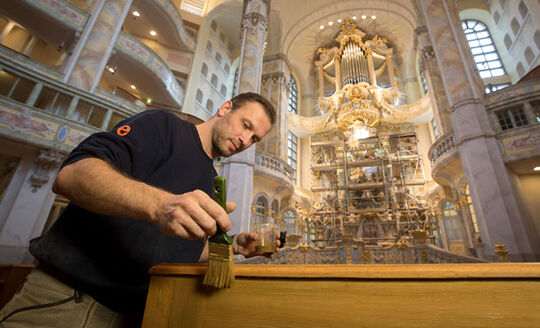 Innovative through experience
That the building has endured a great deal in its long life is not surprising. "Then let the ol' blockhead stand!" Supposedly this was how Fredrick the Great expressed his anger during the Seven Years' War when he surrendered to the Frauenkirche, whose dome simply deflected the cannonballs he had fired at it without showing any signs of damage. However, the greatest mark was undoubtedly left on the church during the devastation at the end of the Second World War.
Reconstruction only first began four decades later. During which nearly 800 cubic metres of wood was used, among other things also for doors, flooring and seating. Wood is a natural renewable work material, which with proper care will stay attractive and durable for a long time. With a total of 1,664 seats and approximately 2 million visitors each year, such high-wear surfaces, like the church pews, require a surface protection that can meet demands efficiently without the use of any harmful ingredients. And this is where Warendorf-based Osmo enters the game.
The specialists for wood and coatings – with over 140 years' experience in the field of industrial wood processing as well as the development and production of wood finishing systems – have just the right product in the form of Osmo Hartwachs-Öl. This product developed over three decades ago has for many years been counted on to provide the church pews at the Frauenkirche with the right surface treatment.
Photo: Oliver Killig
Efficient application, optimal protection
Besides regular church services and prayer meetings, also various Sunday music and organ concerts draw countless visitors under the largest stone dome north of the Alps. Room for everyone can be found on the 622 pews in the church nave or on the 1,042 extra seats spread over a total of five galleries. Clear Osmo Hartwachs-Öl has turned out to be a true blessing: it not only preserves the natural wood look and colour intensity of the pew surfaces and thus strengthens the already imposing atmosphere inside the sacred building, but also forms a reliable barrier against dirt and moisture.
Unlike other traditional oil, lacquer and waterborne coating systems, it provides an all-round effective protection: while the oils deeply penetrate the material protecting from inside, the wax gives the wood an elastic microporous surface protection from outside. These properties also make Osmo Hartwachs-Öl suitable for spot repairs, which are useful for when after sometime individual pews exhibit damage or unevenness – and no sanding is needed. A coating with a clear Hartwachs-Öl will not crack, flake or peel; furthermore it is characterized by high durability and easy maintenance.
The product also makes a real hit with its simple application and high coverage; these are quite convincing reasons for cost-efficiency and productivity, especially for wood surfaces of this scale. In this way, Osmo have made a valuable contribution to the preservation of this imposing landmark of Dresden.
Photo: Sandor Kotyrba