A milestone in efficiency
Simple application, excellent hiding power and a finished surface in only one day: the new Osmo Garten- & Fassadenfarbe gives wood surfaces long-lasting and reliable protection.
For those wanting to use a brush or roller to give garden furniture, sheds or playground equipment a new look, our Garten- & Fassadenfarbe offers a quick drying surface finish with excellent hiding properties. Wind, sun and rain beat down on wood surfaces all year round - effective protection is required. Do-it-yourselfers get the optimal combination of a wide variety of colours, excellent hiding power and durability with the new Garten- & Fassadenfarbe from Osmo. The easy application and short drying time enable a finished surface within one day, and the scratch and stain-resistant coating is water-repellent and weatherproof. This low-odour innovation also scores in terms of health as it has a low content of solvents and is free of biocides. This means that it can be used safely on swing sets and outdoor equipment in gardens, in nursery schools or on playgrounds. Craftsmen will also appreciate the product: without priming, wood surfaces can be treated in a convenient and efficient spray application. Due to the extremely fast drying properties, the product allows a second coat within 3-5 hours so that a finished surface is possible in one day.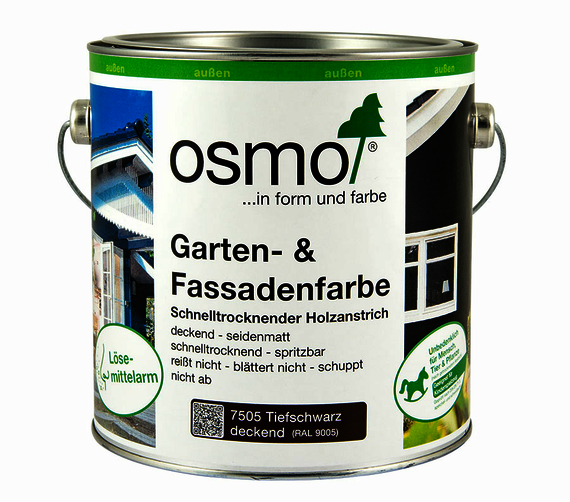 Osmo Garten- & Fassadenfarbe will not tear, peel or flake and the treated surfaces are less susceptible to dirt and stains.
The result: easy-to-care outdoor and garden wood with long-lasting beauty. Another advantage is the extensive choice of colour. Osmo has taken the trend towards individualization into account and carries Garten- & Fassadenfarbe in 15 standard RAL colours or also mixed to order according to RAL and NCS charts.